Lost S5 finale
Favorite moments
Top 20. The Incident.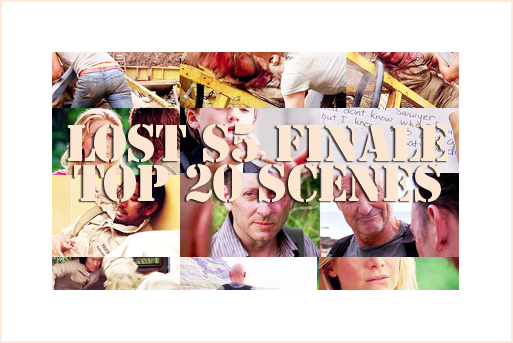 20. jack/sayid dharma!ville action. they were too lucky but who cares. they can rock action scenes.




19. i feel bad for sayid! this accident was horrible.




18. i had to! small sawyer/kate interaction. look at sawyer; devastated.



17. her smile at him, his 'it's all gone' - killed me. liz is such a god actress.



16. nahhh he's not crazy, just special ;)




15. "And just because we love each other, it doesn't mean that we're meant to be together." Bravo for you Juliet. You guys were good in this episode but this is just trufax.




14. lol at him, sorry Jack-ers. he can't do anything right...but this scene was good. I was like "wow it's over right?"




13. L: I guess I won't have to convince you after all.
B: Convince me to do what?
L: I'm not gonna kill Jacob, Ben. You are.
O__O but it's not Locke right? This is this dude from the convo with Jacob at the beginning...Creepy as hell!!! O__o




12. awwwwwwwwwwwwww sawyer and kate funny!talk. how much i missed it.
K: Sun's over there. That's gotta be the west coast.
S: Really? What, you got a compass?
K: No. Do you?




11. and now what? jacob is dead. he was a freaking king of the island..



10. little kate was adorable! the end.




09. black rock right? jacob must be old lol. Lost is made of awesome with al these stuff right? best show ever made.




08. kate/sawyer are my first otp and always will be. this scene was pure love. s6 here we come!!!!! Rose: "We just care about being together. That's all that matters in the end." and his look at her <3




07. jin/sun ♥ second otp of lost. i want reunion like now!!




06. so locke is dead like for real? no! he's my second fav character. terry needs to stay around. he's too awesome.




05. sawyer kicking jack's ass. we all have been waiting for it. good job sawyer.




04. i cried here...it was almost as good as 3x06' "Close your eyes". josh and liz did a very good job here.






03. sweet, just sweet! rip charlie. darlton thank you for this scene.




02. EPICCCCCCCCCC!! Jacob was the one who helped him with this letter wow. And little!Sawyer was a con man from the start lol
- Now promise me you're not gonna finish that letter.
- I promise.
*wink*



01. JULIET BURKE MADE MY CRY AGAIN AND I USUALLY DON'T CRY ON TV SHOWS.







WELCOME 9 MONTHS OF HIATUS
GOD HELP US ALL




. just watch
. enjoy and comment ♥
. screencaps by lost-media.com
. credit me if use any banners